Selecting A Staff Alert Device

The Hospitality Technology Next Generation's (HTNG's) Staff Alert Technology Workgroup has published a detailed Staff Alert Device Buyer's Guide. The 30-page guide was written to assist hoteliers seeking solution providers to partner with for the deployment of on-property staff alert technology.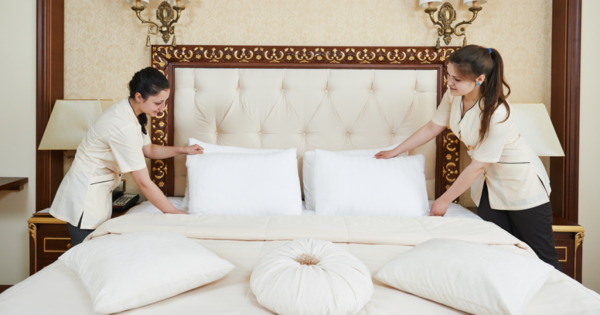 According to Mark Grodzinsky, GM of IoT, Ruckus Networks (now part of CommScope via acquisition) AHLA's 5-Star Promise is prompting thousands of hotels to select and deploy staff alert device systems.

"Workgroup members – including Ruckus Networks – have developed this buyer's guide to assist hoteliers, from general or operations management to corporate brand executives, in building a Request for Information (RFI) or Request for Proposal (RFP) for their hotel property, portfolio or brand," Grodzinsky told The Ruckus Room. "The objective of this guide is to assist the procurement team by identifying the most relevant questions and help enable the development of tailored RFIs and RFPs to ensure the safety and security of staff."
Helping to Fulfill the 5-Star Promise
The 5-Star Promise is a pledge to provide hotel employees across the U.S. with employee safety devices (ESDs) and commit to enhanced policies, training, and resources. This initiative is aimed at enhancing hotel safety, including preventing and responding to sexual harassment and assault.

"Our announcement of the 5-Star Promise was an unprecedented show of unity within the hospitality industry, prioritizing the safety and security of the more than eight million employees and millions of guests that our industry supports," said Chip Rogers, president, and CEO of AHLA. "As we approach the one-year anniversary of that commitment, we are shifting our focus to the challenging, but critical process of implementation. This dedicated resource will aid many hoteliers working to reach that next phase."
Parminder Batra, co-founder, and CEO of TraknProtect expressed similar sentiments.

"Created with extensive feedback from hoteliers, property management groups and suppliers, the HTNG Staff Alert Vendors Guide represents a highly effective resource for developing vendor RFI or RFPs and to realize the best solution to support their employee's security," said Parminder Batra, co-founder, and CEO of TraknProtect.
The Ruckus IoT Suite and the 5-Star Promise
With the Ruckus IoT Suite, hotels can converge disparate networks and associated IoT endpoints into a single, easily managed network. In real-world terms, the Ruckus IoT Suite enables hoteliers to reduce installation costs, lower management fees and accelerate deployment. This makes the Ruckus IoT Suite the logical choice for hoteliers working to ensure staff safety by rapidly implementing alert devices and the 5-Star promise. It should be noted that the Ruckus IoT Suite was recently deployed at the Hoxton Hotel in Chicago.
We are committed to making the Ruckus IoT Suite open to vendors who leverage the power of a Ruckus network to deploy IoT-based solutions, with rich APIs and an SDK that enable rapid interoperability and solution support. By utilizing a Ruckus wired and wireless network as the foundational platform for many types of IoT-based solutions, hoteliers worldwide can quickly and cost-effectively roll out new technology solutions to serve guests and staff.
Continue reading:
How Wi-Fi 6 is changing the hospitality landscape
Wireless convergence in the hospitality industry
Redefining connectivity in the hospitality industry