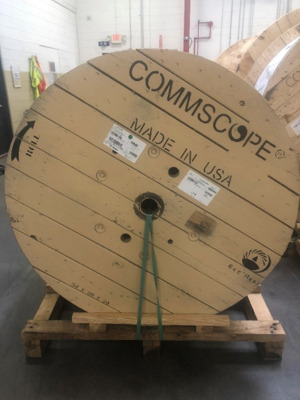 We recently celebrated the 50th anniversary of Earth Day. It felt a little different this year, but the spirit was the same: people all around the world, joining together, to do what is best for the earth and everyone that inhabits it.
This year, we're announcing an agreement with global packaging solutions leader Sonoco to recycle fiber optics reels throughout the United States. These large, wooden spools that are typically sent to the landfills after their fiber is deployed will be collected, refurbished, and repainted in Granite Falls, NC and then reused throughout the country.
CLICK TO TWEET: In the spirit of Earth Day, CommScope's Eric Alston highlights our new agreement with Sonoco to recycle fiber optics reels throughout the United States, complementing our existing ReelSmart recycling program.
This reel recycling effort is seamless, touches all our US fiber optic cable customers, and becomes standard procedure this month.
Together with Sonoco, we're saving trees and minimizing the waste stream by helping our customers reduce the percentage of their supply chain going to landfill, while opening space in their cable yards, and going one step further to reduce our collective impact on the environment:
Three recycled wooden reels saves approximately one tree, eliminates about 600lbs of waste from the landfill, and saves our customers three cubic feet of space in their cable yard.
We estimate that this effort will allow us to recycle at least 1,200 reels in the United States this year alone.
"CommScope had the vision to take an everyday networking commodity, minimize its environmental footprint, and multiply that impact across dozens of customers all over the United States," Brooke Stonesifer, Strategic Account Manager, Sonoco. "It's responsible, forward-looking progress like this that inspires the work we do together. Sonoco is committed to meeting the growing needs of leading network providers while doing our part to keep the spirit of Earth Day in mind, today, and every day."
Our new agreement with Sonoco complements our existing ReelSmart® recycling program, which repairs and reuses 75% of the trunk reels and flanges we collect ourselves. These reused reels include 48% composite reels, 37% steel reels, and 15% wooden reels. Together, these programs will help reduce our environmental footprint as we roll out the networks of the future.
To learn about Sonoco's EcoReel Recycling Program, please visit their website. To learn about CommScope's ReelSmart® recycling program, call (800) 982-1708 and ask for the reel recycling coordinator or email reelrecycling@commscope.com to schedule a reel pick-up.
Additional References: