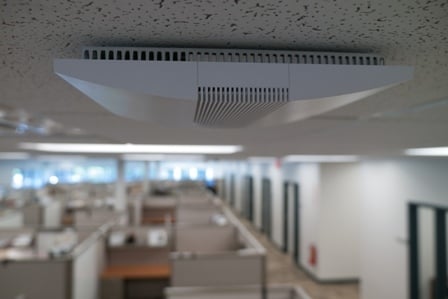 This blog post is part of a series called "CommScope Definitions" in which we will explain common terms in communications network infrastructure.
Last year, Patrick Lau defined the term "small cell" for the CommScope Definitions series. He explained that small cells are fundamentally about giving operators a tool for adding cellular network capacity through densification, with radios that are physically smaller and lower-powered than macro cells. This is still true, but the small cell market is evolving quickly, and other aspects of small cells are taking prominence. Here are three key areas that stand out:
The emergence of C-RAN small cell architectures. Small cells now come in two basic flavors: traditional standalone, in which each access point contains a base station, radio and antenna, and C-RAN, in which a centralized unit performs baseband processing across multiple radios that are distributed throughout a large building. Each architecture has its target use cases. Standalone small cells, including femtocells, are ideal for homes and small offices where one or a few units can cover the entire area. C-RAN small cells such as CommScope's OneCell are better suited for large offices and public venues. By allowing multiple radios to form a single "borderless" cell, C-RAN architecture enables many important advances both for improved cellular performance and for deployment economics.

The growing importance of HetNets in small cell solutions. Short for "heterogeneous networks," HetNets refers to the combination of multiple types of wireless access nodes: macro cells, small cells, DAS and wireless LANs across a common coverage area. These different systems, typically from different vendors, must coexist within the same physical footprint for the operator. A lot of work is going into ensuring graceful and simple coordination for things like interference mitigation and handover management. This has long been a focus area for CommScope small cell products, and we work through the Small Cell Forum to contribute to and adopt industry-standard practices.


Small Cell "Plug-and-Play" – for small cell deployments to scale economically to thousands and even millions of access points, they require a dramatically simpler provisioning methodology than what has been historically required for macro base stations or even distributed antenna systems (DAS). For small cells, plug-and-play means that when a small cell is added, a sequence of events initiates automatically to configure the device optimally for its function and environment – just as a USB peripheral self-configures when plugged into a computer. This level of automation is needed by operators today, and it will be critical for the industry to evolve from an operator-led model to an enterprise self-service model in future. Plug-and-play is a key function of CommScope's small cells and of our DMS small cell management system.
When small cells originated almost a decade ago, they were little more than an afterthought in mobile network architectures. Now we are seeing an increasing importance for small cells for wireless service delivery. Small cell solutions are rising to the challenge by adding sophistication in the form of C-RAN, HetNet coordination and plug-and play-features. The functional role of small cells remains the same—adding more capacity and improving quality in stressed wireless networks.
Key Takeaway: Small cells add capacity to cellular networks. How they do so is evolving. C-RAN architecture, HetNet coordination and plug-and-play features are taking prominence.
Related Resources:
Editor's note: Since this article was originally published, CommScope acquired small cell innovator Airvana. Please visit our latest Definitions article, and our small cell products and solutions pages.