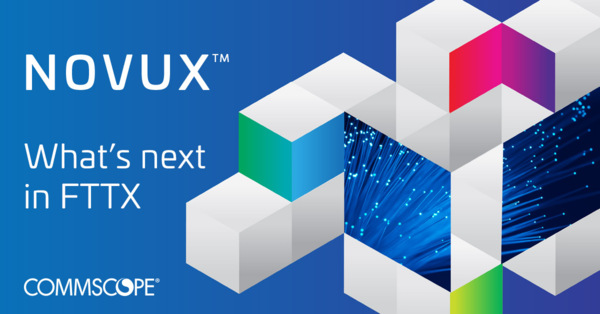 The need for faster speeds and more bandwidth is forcing service providers to find new ways to step up their FTTH deployments. But building and extending a fiber network can be expensive and confusing.
Our customers constantly ask for our help in speeding up their fiber rollouts, in a practical way that gives them the flexibility to scale bandwidth incrementally for years to come. In fact, a recent survey of service providers showed that speed of deployment remains the top priority when it comes to fiber access networks. Luckily, there are a number of streamlined and cost-effective solutions for speeding up deployments.
CLICK TO TWEET: CommScope's James DeCoe explains how service providers can speed up their fiber deployments using the new NOVUX solution.
Smarter approaches to cabling
Delays in FTTH installations usually happen in the last mile. That's partially because traditional methods of placing and splicing fiber cables take time—especially since splicing requires highly skilled labor, which can be hard to find.
To speed up installation time and reduce the overall amount and length of fiber placed, innovative service providers are transitioning to fiber indexing in their FTTH distribution networks. With this approach, connectorized cables and terminals are placed with the same components, daisy-chained together in a plug-and-play fashion. That way, the fiber cabling and integrated service terminals can be deployed quickly, more easily, and with a lower cost of labor.
With fiber indexing, installers don't have to worry about costly custom cable assemblies, which can cause delays as they wait for specialized crews to set up, prepare cables, and build splices. Indexing also supports FTTH applications and can also support point-to-point fiber applications, such as a 5G radio site or metro Ethernet connections for businesses.
Unified infrastructure platforms
Since all locations and environments are unique and present their own set of challenges, field technicians often ask us for terminal enclosures that can adapt to any application. In response, CommScope designed the NOVUX™ line of flexible closures and terminals that work with a variety of FTTX deployments including low-density rural, single residential, multi-fiber urban, and urban applications—all within one common platform. This allows for uniform installation practices and simplified training, which helps ease costs and accelerate the deployment of FTTH solutions.
Passive optical components
Service providers attempting to keep TCO as low as possible often look for new ways to maximize their existing assets. Some of our customers are leveraging passive wavelength division multiplexing (WDM) technology to get maximum bandwidth out of their current fiber infrastructures. Simply put, WDM allows multiple wavelengths to travel over a single fiber, dramatically increasing the capacity of the fiber plant.
Beyond technology
It's our mission to keep our customers ahead of the bandwidth curve, but technology is only one piece of the puzzle. Solutions can't offer value unless they're deployed correctly.
At CommScope, our teams have decades of experience guiding customers through the complex processes of planning, designing, cost-estimating, and implementing network evolutions. As much as we share knowledge and insight, we also learn from each customer engagement. We've been building on that knowledge base so we can help service providers deploy the right solutions that offer a quick ROI with ongoing benefits. To find out more about what CommScope is doing to support leading FTTH initiatives, please visit our website.