Deliver consistent, reliable voice over Wi-Fi networks
People have used voice services over Wi-Fi for years, but the experience hasn't exactly been great. Typically, it meant using a separate app—like Skype—that didn't integrate with subscribers' standard voice services. And spotty voice quality and lost connections were just part of the deal.
Today, CommScope can help service providers deliver reliable voice service over Wi-Fi—in a way that's completely transparent for your customers. You can give subscribers in high-traffic areas a voice service that's consistent with your brand, while increasing your network capacity and lowering costs.
Deliver uninterrupted voice
In today's mobile marketplace, competition is fierce—and subscriber churn is expensive. Ruckus Wi-Fi solutions can help you bring consistent voice experiences to areas with spotty coverage, as an alternative or complement to in-building cellular systems.
CommScope makes it easy to deliver secure, highly reliable voice services as you offload traffic to your Ruckus Wi-Fi network. Patented Ruckus BeamFlex+ antenna technology continuously optimizes the user connection, while Ruckus SmartCast technology prioritizes voice traffic to deliver crystal-clear calling even in heavy-traffic areas.
Call and receive—with no roaming, special apps or logon required
Why should Wi-Fi calling require an over-the-top app and a different subscriber experience? Now, mobile operators can use Voice-over-LTE (VoLTE) to automatically route calls over Wi-Fi, using the native dialer on subscribers' smartphones. High-performance, highly reliable Ruckus Wi-Fi technology connects the standard cellular voice stack with your IP Multimedia Subsystem (IMS) complex. You can use the same back-end systems to manage your subscribers and devices. And Ruckus Fast Handoff roaming capabilities let subscribers move easily between Wi-Fi access points while on a call. All your subscribers know is that the high-quality voice service they expect is there when they need it.
Increase network capacity intelligently
Offloading voice traffic to Wi-Fi can be the fastest, most cost-effective way to deliver consistent voice service where your usage and subscribers are growing most. Don't ask subscribers to wait while you continue to build out macro, micro and pico cell infrastructure. In the meantime, mobile operators can transparently hand off voice traffic to Wi-Fi. Your subscribers get reliable, crystal-clear voice service in congested areas. And you get to plan your network upgrades more pragmatically, while extending the life of existing macro investments.
Featured products for Wi-Fi calling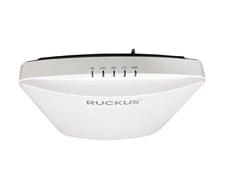 Wireless Access Points
Find a complete range of indoor, outdoor and special-purpose access points for Wi-Fi that delivers.
Previous
Next