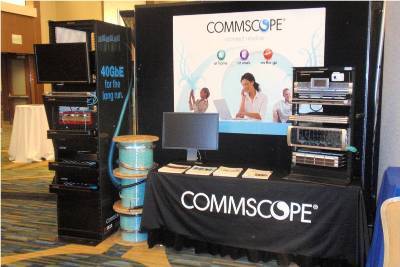 Several weeks ago, CommScope, along with our partners Avago Technologies and Ixia, came together at Datacenter Dynamics Converged in San Francisco to demonstrate something special. We demonstrated an error-free 40 Gigabit Ethernet (GbE) transmission over one kilometer of laser-optimized multimode fiber. This was not exactly your everyday "hero test," but everyone at the show thought it was special for several reasons. Let me explain.
The test featured the most stringent bit error ratio test data pattern (PRBS 31), generated and verified by the Ixia XM2 system outfitted with Xcellon-Lava™ Dual-Speed, 40/100GbE higher speed Ethernet load modules, coupled with a pair of Avago's QSFP+ eSR4 optical transceiver modules. The cabling was the SYSTIMAX® InstaPATCH® 360 pre-terminated fiber solution.
As anticipated the test ran error-free and generated lots of buzz on its own, with one very unique difference—all the fiber components used in the one-kilometer channel were off-the-shelf/standard fiber products CommScope customers rely on everyday.
The demonstration's cabling channel design highlighted one of the greatest design challenges—managing multiple connections and connector loss. We had three spools of LazrSPEED® 550 OM4 fiber—100, 200 and 400 meters long respectively, and a 300-meter spool of LazrSPEED 300 OM3 fiber. From end to end, we had a total of 1,022 meters.
All these cables and MPO patch cords were plugged in and formed an eight-connector setup as proof that real-world design includes multiple hops through the data center from switch to cross-connect to resource and more.
Why is this important to note? This "hero test" demonstrates that InstaPATCH 360 and LazrSPEED fiber solutions can go the distance and are more than capable of supporting the demanding data center design requirements and high-speed protocols that hit the market every year.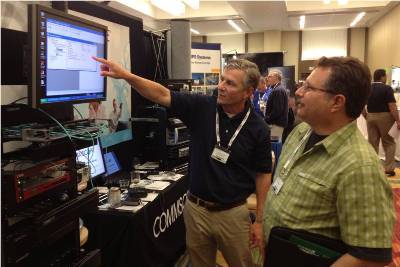 Booth visitors also wanted to know how to protect their fiber cabling infrastructure investment for when they are ready to migrate to 40/100GbE. Well, you can be confident in knowing that your CommScope fiber investment continues to pay for itself with each system refresh—by deploying our innovative pre-terminated multimode fiber for 40GbE data transmission you can protect up to approximately 50 percent of your investment on fiber cabling infrastructure.

Isn't your data center worth this investment?