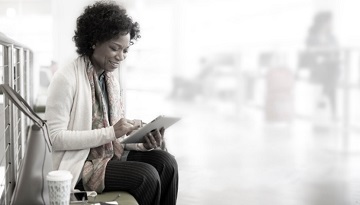 One of the benefits of shaping the future is that we have a clear view of the incredible progress we're making in all areas of communications networking. Connected devices have changed how we all live. Connecting to information—no matter what its form—via the internet is now crucial. And, while the final connection to the consumer is almost always wireless, behind every great wireless network is a great wired network. The intersection of technologies is where CommScope lives - and where we've always excelled.
CLICK TO TWEET: CommScope's new COO Bruce McClelland explains how innovation will help on the path toward 5G.
Whether the wireless network is macro cell or small cell… Whether the spectrum is licensed or unlicensed… Whether the wired network is fiber, copper or coax... We're connecting millions of devices to the content and services that people crave most. And, we've created an end-to-end powerhouse with the technical savvy and expertise to enable it all.
For those of us who've been in the business for decades, this is incredibly exciting.
So now, with ARRIS part of CommScope, the new work begins.
Early 5G trials are turning into deployments. 5G is ultimately a set of building blocks, representing a variety of different technologies. It will create more bandwidth, higher speeds, more capacity, better coverage, and improved spectral efficiency. At CommScope, we have an incredible number of combinations in this new toolbox.
Innovative hybrid networks are creating new price/performance points for cost-conscious customers. One of the most creative network architectures we're working with today is one that uses unlicensed CBRS spectrum with private LTE protocols. We have more than 20 successful trials underway, with more pending. The combination is proving to be especially effective for in-building wireless networks -- which are a particularly thorny use case — as well as for extensions of cellular carriers' macro networks.
Technology continues to move at a breakneck speed. We're enabling new capabilities that weren't possible even a few years ago. We're creating breakthroughs in our homes, at our workplaces, and everywhere in between. And experientially, residences are behaving more like enterprises while more and more enterprises offer the comforts of home.
So, continuing to be out in front on innovations — and adapting our business models to accelerate that work — is vital to our long-term success.
Right now, CommScope can bring deep expertise to every wireless, fixed broadband, and hybrid technology the world is exploring — and we're leading the creation of many of them.
Achieving all of this will take incredible prowess from our technologists and great collaboration with our partners and customers. The good news: We have a long track record of success doing just that. The combined talent of our new company with the scale to invest and the global channels to market, give us an extraordinary advantage. We've already solved some of the biggest challenges that people thought were impossible.
So, let's go shape the future. Again.