It's not news that wireless is table stakes for large public venues like sports arenas, stadiums, and theaters. For much of the past decade, fans have expected at least basic connectivity as part of their event experience to exchange texts, engage on social media, and share photos. What's changed now is that today's smartphones, enabled by 5G and private networks, have become the "hub" to drive digital transformation. As a result, both mobile operators and venue managers are now moving aggressively to put stronger wireless foundations in place.
From basic connectivity to improved operations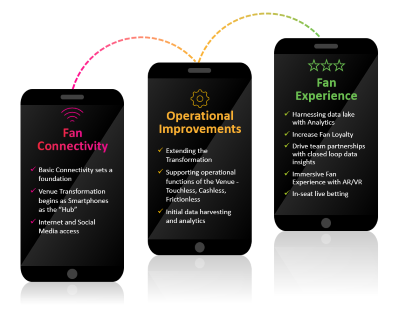 When the COVID-19 pandemic hit, the pace of change for venues kicked into high gear. The focus evolved from delivering basic connectivity to using connectivity to drive operational transformation and improve the fan experience. Driven by public health concerns, venues moved fast to minimize personal contact and remove friction during transactions. Wireless connectivity was a perfect fit to enable the switch to e-parking, cashless payments, and paper-less ticket, and fans were ready and even eager to accept the changes. Improving operations started digital transformation—and established the groundwork for more advanced fan-oriented capabilities.
Next up: fan customization
Like many organizations, large venues are increasing their focus on providing the best possible experience to consumers. In this case, digital transformation sets the stage for the next major step in the journey: acquiring and using data to customize every in-venue experience. Wireless connectivity, data, and analytics are taking personalization and convenience to the next level with in-seat ordering of food, beverages, and merchandise.
But customization will go well beyond retail transactions. Ultimately, large venues expect to and would like to deliver a more immersive fan experience and thereby increase fan loyalty. Applying data analytics coupled with artificial intelligence, a venue can drive personalized innovative services, including selective camera replays, customized player stats, live in-seat betting, micro-betting on specific time-sensitive events, personalized promotions, and unique digital content right to their smartphones.
Enhancing the total fan experience
In the next few years, as 5G and private networking technologies rapidly mature, smartphones and their always-on connectivity are expected to play an even greater role in enabling more advanced, immersive experiences. Ultimately, those experiences will be powered by augmented reality and virtual reality.
One exciting use case is the ability to leverage technology to enhance the fan experience—but not necessarily replace it. Not so long ago, sports fans regularly attended games and listened on portable AM/FM radios to enhance their in-venue game experience. With wireless, connected fans will be able to attend a game and augment their in-venue experience by watching it live through different camera angles on their smartphone in near-real time or watching live video feeds from several cameras. Many venues are trialing this technology so that even a fan sitting high up in the "nosebleed seats" will be able to enjoy close-up views and replays as if they were right by the action.
CommScope is leading the way forward
We're already seeing digital transformation happening across the entire sports industry—in every major sports league in every region of the world. At venues like the iconic United Center in Chicago, home of the Chicago Bulls and Blackhawks, testing of new technologies that can augment and enhance this experience across CommScope's 5G and Wi-Fi 6 infrastructure is already in motion.
To take advantage of these more interactive, immersive rich media use cases, venues and mobile operators must meet strict latency requirements and other technical needs associated with wireless connectivity. But there's no question that advances lie just over the horizon for fans using mobile devices. For venues and their fans seeking the ultimate experience, digital transformation is shaping up to be a grand slam home run, a go-ahead TD, and a slam dunk.