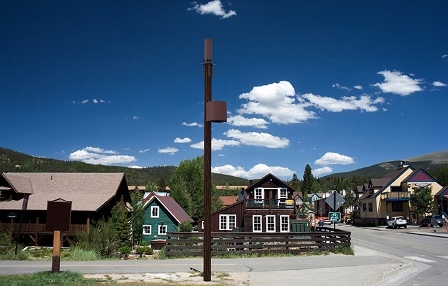 The debate about whether small cell deployments will be a noteworthy segment of the U.S. carriers' wireless network plans in 2017 is over. All four major carriers in the U.S. are actively planning and deploying metro cells (outdoor small cells in urban/suburban areas) to improve coverage and increase capacity needs to prepare for 5G buildouts. The market is truly making the transition from small ad-hoc programs to large-scale rollouts. But there are still challenges.
CLICK TO TWEET: 3 Main Options for Metro Cell Deployments

As compared to macro deployments, metro cells deploy smaller antennas and radios which can be placed on lamp posts, traffic lights, utility poles, and sides of buildings. Planning and deploying these types of network infrastructure programs can be extremely challenging for the carriers. Municipalities are often in opposition to these build plans based upon concerns of aesthetics, noise, right of way and other issues. Current permitting and zoning processes and practices used by municipalities are based upon a history of deploying large traditional macro cell towers. Recent legislation has been passed in some states to help drive a more streamlined approval process. But overall, these zoning and permitting headaches continue to postpone and delay carriers' deployment plans.
The ability to gain municipality approval is often dependent upon the carrier having solutions that conceal equipment and cabling while controlling the temperature, noise and general intrusiveness of the overall structure in the urban landscape. Having solutions that are effective at blending in with the environment from a style, color and size perspective will increase the rate of adoption and reduce the overall approval timeline.
CommScope has designed its Metro Cell Concealment Solutions to help the carriers develop standardized options for the municipalities to review and approve. Our metro cell solutions portfolio consists of three main options, which each can be kitted and integrated with poles, cable, diplexers, splitters, load centers, disconnects, etc. The solutions range from top of the pole, mid-pole and bottom of the pole options, providing the local city government with several variants that should accommodate a vast majority of the situations that arise.
Metro cell deployments are here – front and center. Municipalities are struggling to adjust and embrace this next generation of the wireless network infrastructure. But the end results of higher network speeds and more wireless connections can mean improved transportation systems, smart parking and metering, better energy/utility management and overall improved public safety—the goal of "smart city" initiatives. As a global lead partner of the Smart Cities Council, CommScope is intimately involved in implementing the smart cities vision.
The next phase of evolution for wireless networks will come with benefits, but also poses many challenges for both the carrier and cities where they are being deployed. As an industry, we must find ways to push through and do so with smart, flexible and appealing solutions that can enable these networks to grow.