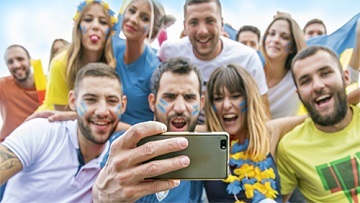 It's officially over. The winner has been crowned. No more staying awake into the wee hours (at least for football fans in Asia). It will be another four years before the world witnesses the glory of one of the world's most watched sporting events and employees throughout the world aren't distracted during the workday.
Many uncertainties throughout kept the tournament highly unpredictable, especially with previous world champions seen packing their bags much earlier while underdogs stunned the world with their unexpected success (or luck).
Unlike the 2018 World Cup, there's one thing I can predict – 5G is well on its way. This tournament gave us a glimpse into our 5G future.
Sporting events provide a prelude to 5G
Mobile network operators are using sporting events as a testing ground for evolving 5G technologies.
World Cup referees turned to the Video Assistant Referee (VAR) to facilitate the decision behind game changing incidents, including goals, penalty decisions, direct red cards and cases of mistaken identity, according to CNN. The referee could also consult a team of officials based in various centralized locations in Russia, where communication was made through a "sophisticated fibre-linked radio system", according to FIFA.
At the Winter Olympics in February, South Korea claimed bragging rights by using a drone to carry the Olympic torch through Seoul. Japan aims to use the 2020 Summer Olympic event in Tokyo to showcase new technologies which include autonomous vehicles like self-driving taxis, buses, trucks and private vehicles on the roads, or even ferrying the athletes.
CLICK TO TWEET: CommScope's Navin Vohra explains how the World Cup provided us with a prelude to 5G.
5G will enhance fans' experience at future sporting events
From the introduction of goal-line technology four years ago to this year's VAR which was grabbing headlines across the sports and tech sections in the papers, there is anticipation that 5G will change fans' experience when watching a sporting event.
Today, fans are turning to their mobile devices to watch the match, share videos and provide live commentary on social media. Perhaps this is how England's famous "It's Coming Home," chant has become a popular meme.
With 5G, fans will be sharing data at unprecedented speed with low latency. Although still in trial phases, virtual reality (VR) is another area that will give fans a sneak preview of 5G technology. For example, fans can put on VR glasses and follow a game as if they were seated in the VIP section.
Stadiums are also trialling 5G. For example, 5G-capable radio equipment was installed in more than 40 sites in seven of the 11 host cities across Russia during the football tournament to provide faster connectivity to users, according to Forbes.
Given this, it's no surprise 5G has huge potential to enhance sports fans' experience and what we've seen is only the tip of the iceberg. Fret not, your favourite sportsmen will not be replaced by artificial intelligence (AI) players on the pitch, at least for now.
Helping service providers deliver fast connectivity
How many times have you heard people celebrating a goal but the footage on your mobile device reflects it only 20 seconds later?
Whether it's watching a live match in a stadium or on a mobile device, consumers demanding faster connectivity have placed greater expectations on service providers to deliver. As a result, network operators are partnering with CommScope to meet these expectations.
CommScope enhances the network performance by providing wireless technologies to enable mobile coverage, capacity and speed. Read our recent guest blog on how CommScope connects football fans at Anfield Stadium, home of Liverpool Football Club.
There are unlimited possibilities to what 5G can deliver. Presumably, before the Telstar 18 becomes smarter in 2022, network operators must act fast and decide how they can maximize their network investments.
How do you envision a sporting event in the 5G world will look like? Share your comments with us.