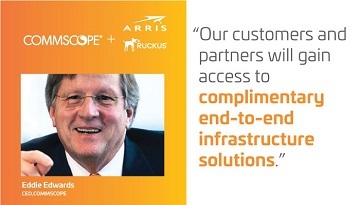 Today is a very exciting day for all of us, as we celebrate the completion of the acquisition that combines CommScope and ARRIS.
We are bringing together two companies -- established and recognized leaders in their respective markets -- with a unique set of complementary assets and capabilities that promise to create a greater experience for our customers and open new opportunities for us to address long-term industry trends such as 5G, network convergence and the Internet of Things.
CLICK TO TWEET: CommScope's President and CEO Eddie Edwards explains how the acquisition with ARRIS will shape the future of wired and wireless communications.
This happens at an unprecedented moment in time... with more than 46,000 photos posted to Instagram and 16 million text messages sent every minute, and 2.5 quintillion bytes of data created every day. People worldwide demand instant response to any communication and expect to be constantly connected.
We're finally at a point where -- with powerful network connectivity and content -- we can give people what they want, when they want it, and where they want it. All of this is made possible by a new generation of wired and wireless networks that is more complex than ever before.
With ARRIS, CommScope is now positioned to create innovative, end-to-end communications solutions -- something that neither company could otherwise achieve on its own. Simply put, this combination creates a communications company with remarkable breadth, depth, and capabilities, a company that will shape communications connectivity and networks of the future. To compete and win globally, we will work together to help our customers meet the growing demand for network accessibility and bandwidth.
I was able to sit down with Bruce McClelland, chief operating officer, to talk about the opportunities for the new CommScope.
I look forward to sharing more details in the coming months as we shape the future of wired and wireless communications, together.