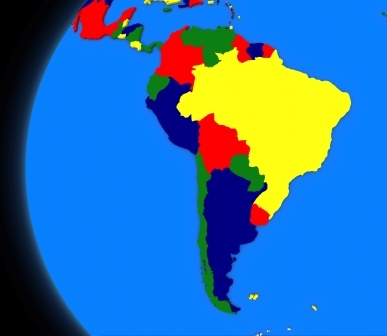 (Note: The following has been submitted as a guest post to CommScope Blogs by Chris Pearson, president of 5G Americas. Opinions and comments provided in this guest post, as with all posts to CommScope Blogs, are that of the author and do not necessarily reflect the views of CommScope.)
More licensed wireless radio spectrum is needed for Latin America. The average allocated mobile wireless spectrum in Latin America--allocated as a percentage to the ITU recommendations--is only 25.38 percent for the region.
Additionally, anyone who follows global economics understands that certain regions are being more economically challenged than others. Latin America has been faced with economic headwinds for the past few years and is working hard to move forward with positive economic gains in 2016 and beyond. A key growth driver for any economy is licensed wireless radio spectrum for mobile wireless services.
There have been studies that highlight the economic impact of providing more licensed spectrum. A still relevant report from 2011, released jointly by Arthur D. Little and Chalmers University of Technology studying 33 OECD countries, highlighted that a doubling of the broadband speed for an economy increased GDP by 0.3%. Another study released by Ericsson and Arthur D. Little in 2011 concluded that every 10 percentage point increase in broadband penetration increases GDP by 1 percent. Even in the U.S. market, Recon Analytics showcased in a 2015 report that the average impact for 10 MHz of licensed wireless spectrum over 10 years increases U.S. GDP by $3.1 billion.
Latin America government regulators are taking positive steps in the next few years as highlighted in Table 1. Many governments are making more spectrum available to spur growth in connectivity and services. These spectrum allocations can increase economic development and increase applications spurring development in e-government, e-education and e-healthcare to help citizens.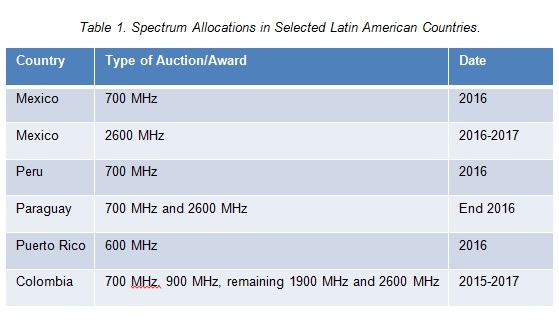 These new spectrum allocations are positive steps, however, more licensed mobile spectrum is needed for the Latin America region. For wireless carriers in Latin America that average approximately $9.91 (US dollars) in average revenue per user, spectrum offers the most efficient way to increase coverage, network speeds, and progress technology development. A recent study by 5G Americas highlighted that compared to the ITU recommendations for spectrum in the region, nearly all countries need to increase the amount of spectrum into the marketplace.
Examples of the percentage of spectrum compared to ITU recommendations in five countries are shown in Table 2.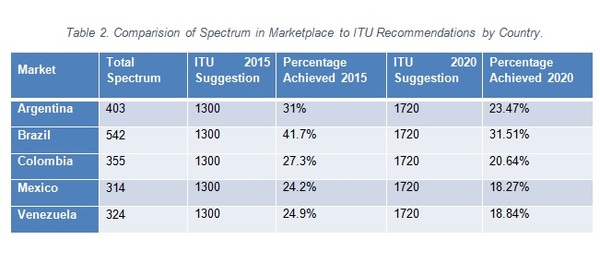 As the Voice of 5G and LTE for the Americas, 5G Americas is committed to progressing connectivity throughout the Western Hemisphere. We encourage you to read our white paper at www.5gamericas.org in support of our object for more licensed radio spectrum to serve social and economic connectivity development in Latin America.
The economic condition and the success of communications in the Latin America region is heavily weighted to a positive outcome of governments allocating appropriate spectrum bands for progress in the development of LTE and 5G technologies.
About 5G Americas' White Paper:
None of the Latin American countries have reached 50% of the 1300 MHz suggested by the International Telecommunications Union (ITU) for 2015 in its ITU-R M.2078 report. This report establishes the spectrum allocation requirements for IMT-2000 and IMT-Advanced technologies, commonly referred to as 3G and 4G, to work efficiently. These requirements are reflected in 5G Americas' white paper, Analysis of ITU Spectrum Recommendations in the Latin American Region.