In a world driven by technology, a STEM-based education is the new currency. But how do you inspire young students to explore the possibilities of a career in STEM? Let them touch it, hear it and experience it for themselves—then give them the tools to pursue their passion. That's what the CommScope Ignition Program is all about.
About the Ignition Program
The Ignition Program is designed to inspire students to explore STEM-based learning. Partnering with Trackhouse Racing and driver, Daniel Suárez, we're bringing the excitement of NASCAR technology to select schools.
At each school, students will hear from Suárez and other experts about the critical role technology plays during a NASCAR race. Kids can climb inside a replica of Suárez's #99 Chevy Camaro and see where it all comes together. Additionally, each event includes giveaways, photo opportunities and more.
More than sparking kids' imaginations, CommScope is helping schools bridge the digital divide. We're offering selected schools a no-cost network assessment and customized stimulus funding report. The goal is to help school IT professionals connect more students to the online resources that can feed their curiosity.
Why NASCAR?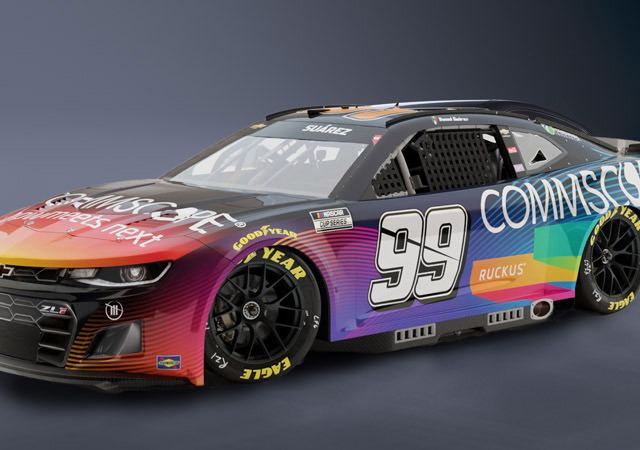 Kids already spend hours a day playing games like Days of Thunder, iRACING and NASCAR Heat. Yet how many realize that gaming is a stepping stone to a brighter future? NASCAR and CommScope's Ignition Program help students see the connection.
NASCAR and the Ignition Program provide the perfect bridge, showing kids that their interest in motorsports and gaming can become a rewarding and successful career.
NASCAR was a pioneer in promoting STEM, inside the classroom and out. Its Acceleration Nation initiative has become one of the most requested Scholastic partnership resources by teachers.
Over 100 million data points alone are created in a single weekend during a NASCAR race.
STEM + Motorsports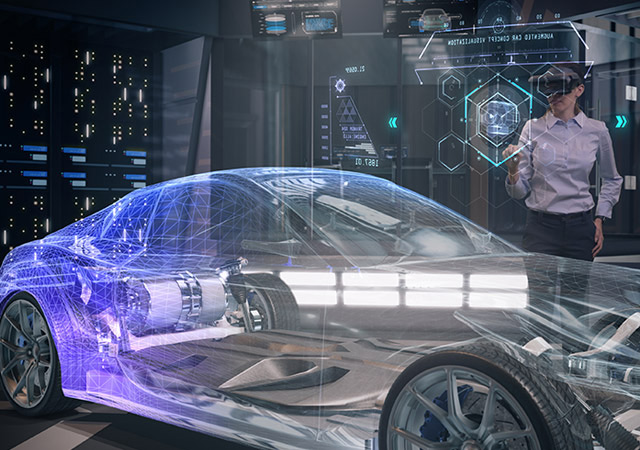 The connections between a STEM-based education and its applications on the track are clear. Motorsports is physics applied. It's aerodynamics, thrust and weight ratios—and that's just what it takes to make the car go. Wireless networking, communications and data analytics keep the team in touch and informed. Then there's a whole different set of STEM disciplines needed to loop in the fans.
Laser inspection system is used to ensure all cars are within spec, including the wheelbase, corner weights, and camber settings.
The mass of gas that will fit into a tank changes based on air pressure, which means a car's mileage on one tank changes depending on the air conditions. It all needs to be instantly calculated and available in real-time.
June 2019, Athena Racing became the first all-girls high school and college race team to apply STEM education principles to the track and life.
Network Support for Schools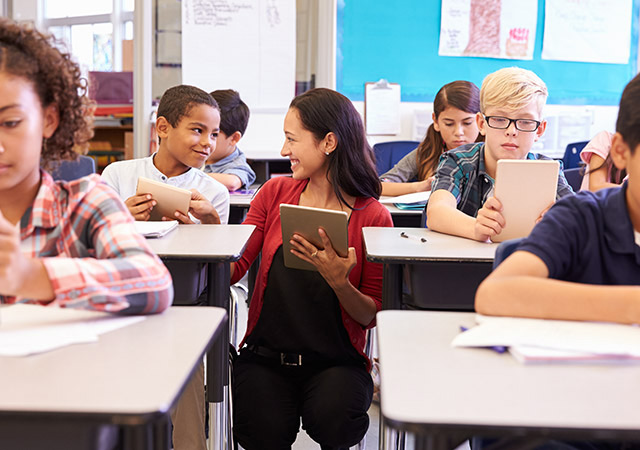 The times have changed. And as education accelerates the digital learning transition, CommScope is committed to bridging the digital divide. We provide the network solutions, strategies and services that enable schools to support the fast and reliable digital learning opportunities your students need, whether in your classrooms or their living rooms. With offerings like complimentary Wi-Fi readiness assessments, E-rate funding assistance, RUCKUS® high-performance network components and CommScope infrastructure solutions like fiber-to-the-classroom, we connect you and your students to what's next.
Complimentary Wi-Fi Readiness Assessment and customized stimulus funding report available for select K-12 schools
E-rate discounts on eligible telecom, Internet access, and internal connections
District-wide networking solutions for improved performance, coverage and management
Industry-leading end-to-end RUCKUS solutions address virtually any application and environment
CommScope fiber and copper infrastructure cabling and connectivity, and 40+ years of industry experience and technical expertise.
Meet RUCKUS®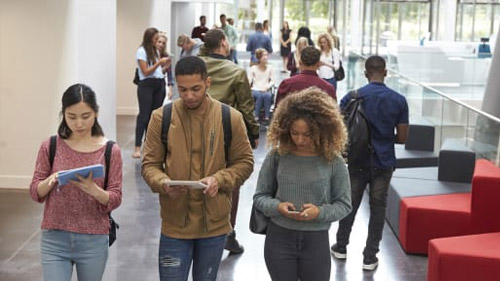 Ruckus Networks ("RUCKUS"), a business unit of CommScope, builds and delivers purpose-driven networks that perform in the tough environments of the industries we serve. RUCKUS delivers high-performance wireless LAN, wired LAN, IoT, assurance and security solutions that enable exceptional connection experiences for guests, students, residents, citizens and employees.
Best-in-class hardware and AI-driven software reduce complexity and improve business outcomes for the world's most demanding industries.
Program events
Meet NASCAR Cup driver Daniel Suárez.
Meet a panel of sports and technology experts. Look inside a replica race car.
Collect giveaways, take part in photo opportunities.
Check out resources for connectivity technology assessment.
About Trackhouse Racing
Trackhouse Entertainment Group is a burgeoning sports and entertainment enterprise with plans to marry the cultures of music and motorsports.
Trackhouse Racing is a two-car NASCAR Cup Series team that fields race cars for Daniel Suárez (#99 Chevy) and Ross Chastain (#1 Chevy). The team is passionate about making a positive impact both on and off of the track in the communities we race in. Owner Justin Marks and partner, GRAMMY Award-winning global superstar Pitbull, launched a racing-themed STEM Curriculum in 2021 within the SLAM! (Sports Leadership Arts and Management) inner-city charter schools – which Pitbull helped establish eight years ago.
Why CommScope?

Wired/wireless experts
For 40+ years, CommScope has been a leading global provider of wireless and wireless network infrastructure solutions. We can ensure the right solution for virtually any application. Wired or wireless, CBRS or Private LTE, network convergence or school bus Wi-Fi.

Global strength, local focus
CommScope is a globally recognized leader committed to connecting communities. Every day, we invest our resources and expertise in helping schools, neighborhoods and municipalities connect to what's next.

Professional Services
We provide the resources and expertise to put our network technology to work. From network design and deployment to E-rate and other public funding assistance, we ensure you have the technical resources you need.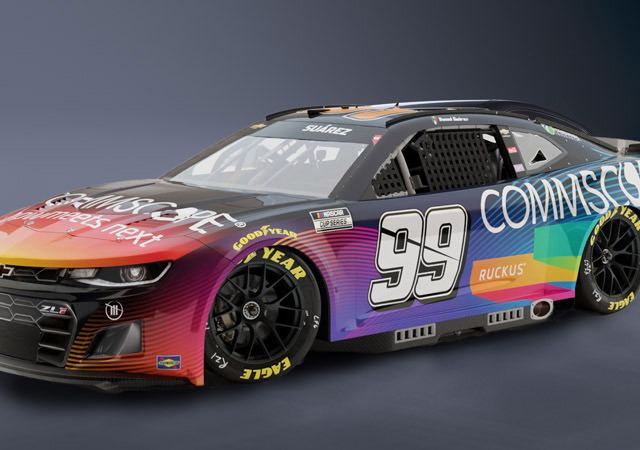 Trackhouse Racing to Raise STEM Awareness with CommScope Ignition Program
Program brings Daniel Suárez and NASCAR technology to select schools to promote STEM learning and help bridge the digital divide.
Resources for stimulus funding
CommScope connects you to a world of resources to help you take advantage of public funding opportunities.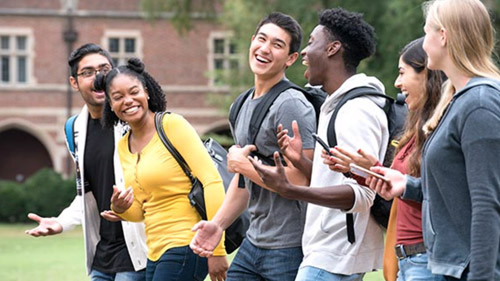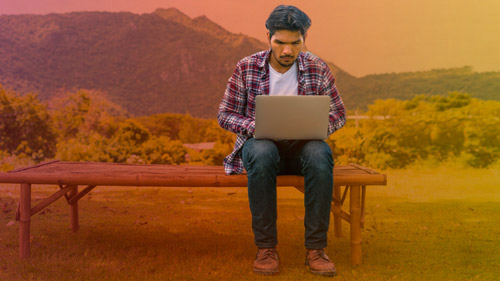 Connecting the unconnected
See what's possible when schools and local leaders work together to connect a disconnected community.
Now and next: In the Classroom
Discover how technology is helping schools bridge the digital divide to unlock students' potential, in the classroom and around the world.