Cluster Connector Technology
Cluster connector technology
Taking RF connectivity to the next level
Connectivity between remote radio units and 5G antennas with high port counts is continuing to grow in complexity as more bands and multiple MIMO configurations are required. That's why CommScope designed our M-LOC cluster connector technology to simplify 5G antenna-radio connections, reduce installation time, and prevent connectivity errors, which are especially critical in 4T4R and 8T8R MIMO configurations.
The M-LOC system includes NEX10-compatible four- and five-port cluster connector schemes with a patented latching mechanism and keyed feature that assures accurate and secure mating for a weather-tight seal and superior PIM performance.
Uniquely designed for exceptional RF performance and high flexibility. The M-LOC system is compatible with CommScope lightweight, super-flexible 3/8-in. low-loss RF jumpers to maintain the highest performance possible in a longer length, as well as standard performance 1/4-in. jumpers. Center ports can also be used for calibration or signaling connections. Connectors are spaced just far enough apart to allow optional mating of individual NEX10 jumpers to antenna ports.
Easy, one-handed installation—no tools required. A visual indicator and audible feedback once the M-LOC jumper is securely latched takes uncertainty out of the equation. Unlatching is also a breeze with a simple flat-head tool.
For more information on the M-LOC cluster connector capabilities and portfolio, contact a CommScope sales representative. If you are interested in partnering with CommScope to include M-LOC technology in your portfolio, we invite you to contact the HELIAX® business development team.
Featured resources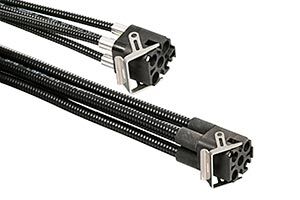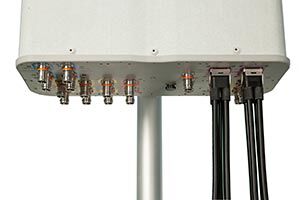 Fact Sheet
CommScope M-LOC Cluster Solution
Sparring Partners Panel
Simplify 5G deployments with cluster connectors
Video
Cluster Connector Technology
Article
Next-Gen Cluster Connectors for 5G
Blog
Taking a closer look at CommScope's HELIAX M-LOC cluster connector technology
Featured Brand
HELIAX® - Simplifying cell site connectivity
Product
Cluster Connector Systems