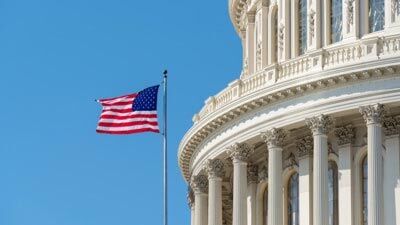 The future of 5G in government is looking bright with the promise of fifth-generation wireless technology that can transform military operations and provide unprecedented service to troops and citizens alike. What's not to like about a 100x improvement to speed, 10x reduction in latency, improved reliability, and better availability? That said, government agencies, like commercial networks are at the beginning of this exciting technological transformation.
This was the theme discussed during a virtual panel session I participated in about the implementation of 5G technologies and solutions. Hosted by Federal News Network, I was honored to join top government technology executives from the U.S. Air Force, U.S. Navy, Customs and Border Protection (CBP) and General Services Administration (GSA) to address the challenges and the opportunities of implementing 5G across government. Below is a summary of what I learned during that discussion.
CLICK TO TWEET: CommScope's Morgan Kurk explains how the future of 5G in government is looking bright with the promise of transforming military operations and providing unprecedented service to troops and citizens.
U.S. Air Force
The Air Force has several ongoing initiatives to bring 5G to all bases. Frank Konieczny, Chief Technology Officer, stated that while contracts for 10 bases in the Southeast have already been awarded, COVID-19 has delayed progress at 20 bases in the Northwest. Plans are also in motion for Hawaii and Alaska, to be followed by the rest of the bases in the country.
Konieczny described several experiments that are underway including shared spectrum with radar, the addition of new mobile user interfaces in Air Operations Command, aircraft maintenance, telemedicine, and the use of IoT sensors to collect data for better decision-making at the edge, which can save costs for aircraft and base maintenance.
According to Konieczny, 5G will enable the Air Force to use more sophisticated edge devices than ever before. This includes drones that utilize artificial intelligence (AI) and machine learning (ML) capabilities along with augmented reality (AR) and virtual reality (VR) glasses.
U.S. Navy
The Navy is working on four 5G pilot projects in the areas of energy communications, connected vehicles, drones, and digital fortresses. Lt. Col. Brandon Newell, Director, SoCal Tech Bridge, NavalX described how this military branch is using small cell coverage with high bandwidth and low latency on top of typical 4G LTE to transform these areas.
Lt. Col. Newell explained how 5G will be used to extend the point of presence of a closed network to solar fields, using telecommunications and cellular connectivity as a transport mechanism across the base. A project involving autonomous base shuttles includes collecting data throughout the day, which is then analyzed to determine how base operations can be improved. Drones will move from radio frequency (RF) signals to cellular control while digital fortresses are the future vision of protected physical fortresses. Using surveillance towers that leverage AI, ML, and computer vision, the Navy will be able to accomplish computing on the edge with reduced bandwidth requirements using cellular technology devices and the cloud.
Customs and Border Protection
CBP has massive requirements for expanding mobile capabilities for operators located CONUS and OCONUS. The agency requires seamless communications as operatives move from the field into a vehicle or facility, then back out to another location. While 4G is a complimentary technology that will be used for some time to come, 5G will allow the capability to conduct autonomous surveillance at the edge and bring that data back to fixed sites so critical decisions can be made to protect national security interests.
Robert Costello, Executive Director, Enterprise Networks & Technology Support Directorate stated that CBP is doing a lot of work to install backup capabilities at more than 200 sites, which will allow seamless operations even if terrestrial lines are cut. The agency is also planning for the explosion of 5G which is a gamechanger when it comes to enabling secure IoT solutions. The new technology can spread out applications, facilitate faster migration to the cloud, provide secure surveillance systems on the border, as well as enable better data management, modern databases and improved access for operators who always need to be connected.
General Services Administration
GSA plays a huge part in enabling 5G across all agencies and departments. Sam Navarro, Director, Customer Engagement Division, Information Technology Category explained that GSA's goal is to look at the challenges the government is facing across the board, understand and meet the gap that exists for agency partners, and ensure adoption so that efficiencies across the government can be realized.
GSA's Federal Acquisition Service makes offerings available to leverage efficiencies on affordable pricing, realize cost savings, and implement technology rapidly. The agency's top priority is to make sure agencies can obtain a secure solution from the right industry partner to achieve efficiencies and modernize at the same time.
The goal of 5G is universal low latency, high reliability service for government facilities, campuses, and military bases. Soon, the government will have the ability to allow any device used by human or machine to connect anywhere, anytime, in the most efficient way possible.
CommScope provides network software and hardware to support this critical infrastructure from access connectivity, to the antennas, to radios as well as the software solutions that help manage the shared spectrum between the government and other networks. These solutions are cost-effective, easy to install and maintain, and offer the scalability to grow as needs change. The future is all about ubiquity and reliability and with mind blowing speed and low latency. Whether the technology is used for military operations, healthcare, or training government leaders, 5G will be an information superhighway, connecting everything, everywhere, all the time.
To learn more about 5G and the promising technology, watch the Federal Executive Forum's 5G in Government 2020 webinar by clicking the button below.