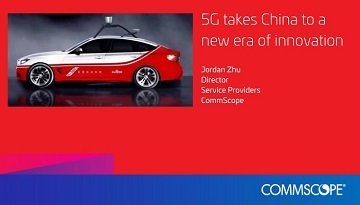 Historically, the U.S., Japan and South Korea were featured in news stories on their contribution to 3G and 4G technology. Japan paved the way for 3G, the U.S. spearheaded 4G, and South Korea proved their K-pop scene wasn't the only local story making global headlines.
At the Winter Olympics in February, South Korea claimed bragging rights by demonstrating technology which could carry the Olympic torch through Seoul via drone.
Despite this, China is making its mark, according to headlines like "In the race for 5G, China leads South Korea and the US." This headline seems surreal given only a decade ago Internet access in China could be tedious and slow. The global superpower is again showing its innovation prowess through technology advancement.
CLICK TO TWEET: CommScope's Jordan Zhu explains how Chinese operators are testing next generation technologies and planning for 5G infrastructure deployment.
Bringing innovation to the world
China has leapfrogged other markets when it comes to electronic payment and digital wallets. According to China Channel, more than 90 percent of Chinese consumers have adopted WeChat (WeChat Pay or AliPay) as a method of payment in offline purchases, compared to a 32 percent adoption rate for debit and credit cards. The success of the cashless nation has received attention from global leaders like Singapore's prime minister, who said the island nation should replicate digital payments best practices from China as part of Singapore's Smart Nation initiative.
In artificial intelligence, China also is demonstrating momentum. The nation showcased autonomous driving technology by Baidu during this year's Spring Gala Festival, watched by an astounding 800 million viewers.
In addition to driverless cars, the focus is on how artificial intelligence could integrate with digital payments. For example, businesses believe the banking industry will spearhead artificial intelligence adoption to improve payment efficiencies in the future.
Wireless network technology to support China's 5G future
Chinese operators are testing next generation technologies and planning for 5G infrastructure deployment. Before becoming the status quo, network operators need to consider strategies that will help optimize their networks.
I had a chance to speak with regional and China-based customers while I was at Mobile World Congress in Barcelona earlier this year. They continue to be receptive to new technologies that will help network operators meet increased connectivity demands:
Small cells can be deployed to expand capacity in wireless networks. There are several ways that small cells can be deployed to expand capacity, including distributed antenna systems (DAS) to enable higher cost savings and flexibility. You can read the blog for the latest trends on applying cloud and virtualized RAN concepts to DAS.
MIMO (multiple-input, multiple-output) technology is a wireless transmission technique that improves network capacity and speed for users. CommScope has collaborated with Nokia to develop a massive MIMO integrated antenna solution that enables network densification. In addition, we teamed up with Nokia to develop a solution to reduce interface complexity between a base transceiver system (BTS) and DAS.
Fixed wireless access helps to deliver broadband internet access, voice and video services to homes or businesses without a wired connection. CommScope has developed a new integrated antenna solution based on xRAN open interface that will help operators to mix and match radio access network (RAN) hardware from multiple vendors.
CommScope provides the communications infrastructure which enables markets like China to pave the way for 5G. Given recent headlines, China's future is bright, yet even brighter with the imminent arrival of next generation networks.