ONECELL® expands indoor wireless potential for LTE and 5G

ONECELL helps enterprises and service providers meet the growing demand for reliable LTE and 5G services where they matter most—indoors. It combines multi-operator LTE and 5G coverage with a simple Wi-Fi-like deployment model to cost-effectively meet enterprise needs for commercial mobile services as well as private LTE and 5G networks. ONECELL's hardware, software and management interfaces are consistent with emerging open RAN architectures and standards.
Superior in-building and outdoor mobile coverage
ONECELL delivers a clear mobile signal throughout buildings of virtually any size. Ruggedized radio points extend the signal to adjacent outdoor spaces such as courtyards and parking lots. ONECELL's single-cell architecture eliminates border interference and call drops due to handovers. Patented Cell Virtualization multiplies the capacity of available spectrum in real time to support intense usage surges.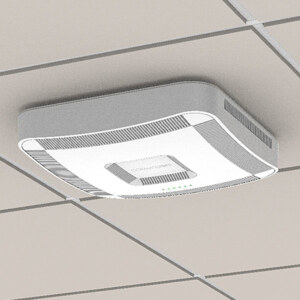 Multi-operator capable
ONECELL's RP5000 series radio point supports up to four operators or frequency bands, in a compact, discreet form factor. Each operator's service can be managed separately, or together by a common entity such as a neutral host or managed service provider.
5G-ready
RP5000 radio points can be converted from existing LTE bands to 5G NR via software upgrade. RP5000 models will also support higher 5G frequencies such as C-band globally and CBRS in the U.S. ONECELL is designed to take advantage of virtualized baseband processing, Open RAN fronthaul, open management (ONAP) and edge computing – capabilities that will become increasingly important for 5G rollouts.
Simple to install and manage
ONECELL uses Ethernet for fronthaul, making it compatible with standard IT networks. A patented single cell architecture eliminates cell boundaries, to dramatically simplify RF planning and put an end to border interference common with legacy standalone small cells.
To meet the business and operational needs of each organization, CommScope offers multiple ways to manage ONECELL, including cloud-hosted software-as-a-service (SaaS), perpetual device management system (DMS) license, or as a turnkey managed service through CommScope or our channel partners.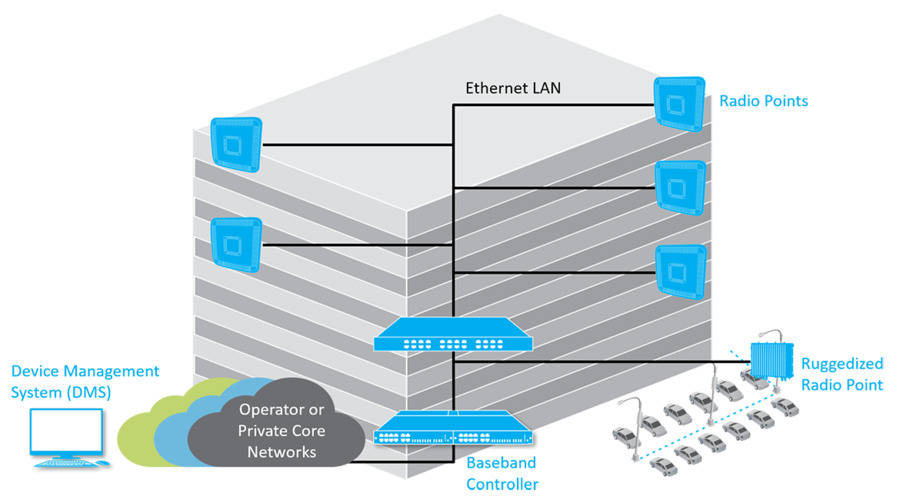 ONECELL system description
Baseband controller
The Baseband Controller the system signal source, performing baseband processing and scheduling across all Radio Points. Unlike traditional large macro base stations, the ONECELL baseband controller supports up to 1,024 simultaneous users in half of a standard 1U chassis.
Radio Points
Radio points transmit and receive radio frequency (RF) signals over the air. Edge intelligence in the radio points enables advanced features such as cell virtualization, enhanced signal quality and user location awareness for emergency services. ONECELL offers two radio point solutions, both available in indoor and rugged form factors.
RP5000 Series is a multi-carrier, multi-channel solution that supports up to four frequency bands simultaneously. It incorporates programmable logic, allowing operators to convert existing LTE bands to 5G NR via software, and support higher 5G frequencies with an RF module upgrade.
RP2000 Series is a highly compact, single-carrier, single-frequency solution. The frequency is software-selectable, enabling the operator to change frequency bands without touching the hardware.
Ethernet cabling and switches
ONECELL operates on standard Gigabit Ethernet links and switches. CommScope provide ONECELL plus RUCKUS ICX Ethernet switches and structured cabling for a turnkey solution that saves time and money.
Device Management System (DMS)
The DMS automates provisioning and ongoing support for ONECELL deployments. It features an easy-to-use dashboard and can automatically configure over 100 key network and RF parameters. Its scalable architecture is capable of supporting thousands of devices. DMS is fully virtualized and agnostic to the underlying hardware platform. It can run on public or private cloud infrastructure as well as on-premise appliance. DMS is available in both perpetual license and SaaS models.
Products