Fiber at the Core
Fiber-Supported Data Centers
Your data center's future depends on fiber infrastructure that solves tomorrow's challenges today.
Data centers are evolving faster than ever before, not just technologically, but also strategically. New business models emerge from data centers' growing role in all commerce, empowering them to leverage the cloud architectures, embrace low-latency edge computing, achieve 400G bandwidth and more.

CommScope is committed to delivering innovative fiber data center solutions that turn data center disruption into a business opportunity.

Eliminates
network
complexity

Global
scale with

local expertise

Fast,
consistent global
availability


A solutions ecosystem
built for the cloud



A legacy of leadership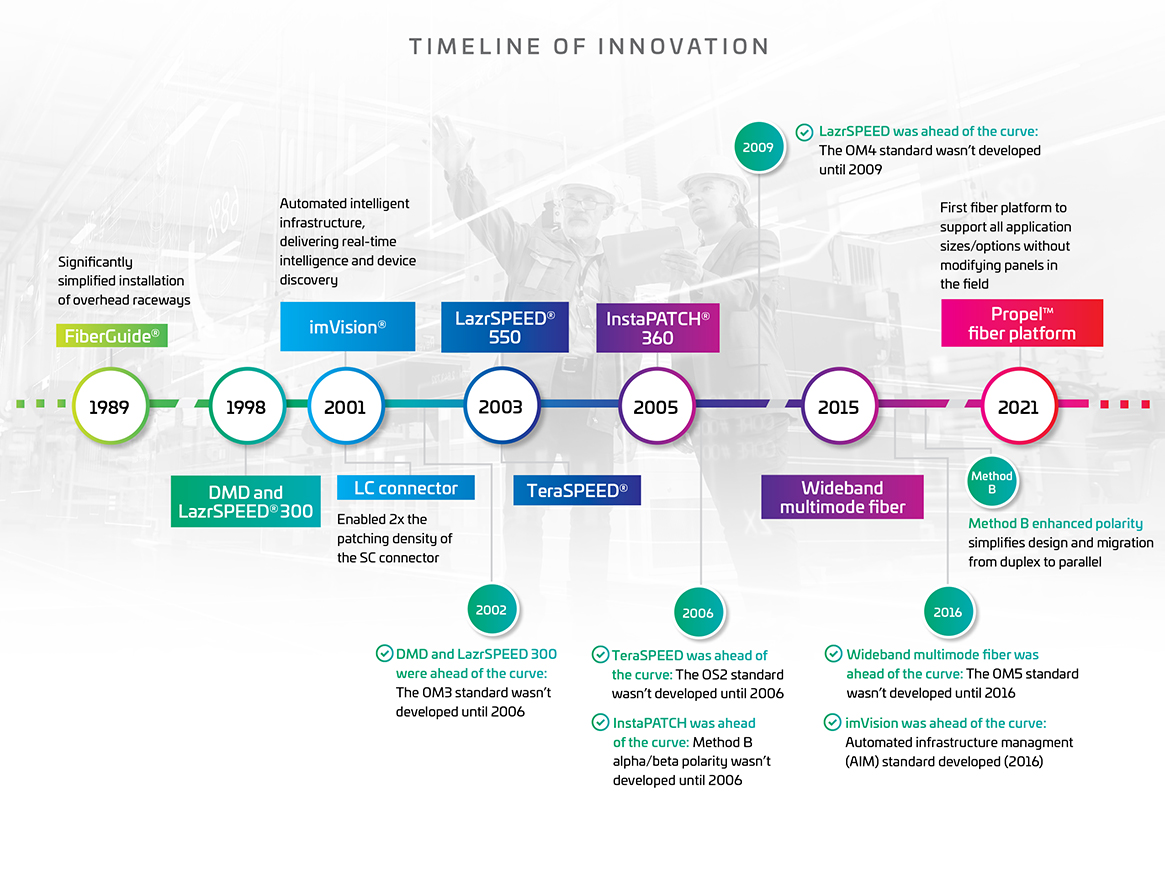 Fiber solutions to meet your needs at the core
Enterprise Data Center Solutions
Hyperscale and Cloud Data Centers
Fiber at the Core Resources
Multimode Fiber
The Fact File
Evolution of fiber cabling types used in the enterprise, the differences between and advantages of OM3, OM4, OM5 and multimode and singlemode fiber
Fiber Performance Calculator
Migration to 400G/800G: the Fact File -- Part I
Hyperscale and multi tenant data centers need to plan now for 400G/800G migration. Get the insight you need to prepare—optics, fiber, cabling design and more.
Migration to 400G/800G: the Fact File -- Part II
Continue reading in our Part II how hyperscale and multi tenant data centers need to plan now for 400G/800G migration.
Explore Propel™
Discover more information on Propel™ capabilities in this interactive presentation.
Propel™ - Keeping Moving Forward
Introducing the fast, flexible, future-ready fiber platform designed to maximize your data center's potential -- today and tomorrow.
FiberGuide® Design Pro
FiberGuide Design Pro takes the guesswork out of the process and gives users a clear view of how the raceway should look once fully installed.
2023 Data Center Trends eBook
Planning a data center that is ready for future applications? Read our new 2023 Data Center trends eBook to keep you ahead of what's next.
Re-tooling the data center to accelerate deployment
Learn how developing technologies are creating daunting challenges for data center managers, especially at the hyperscale and cloud-based level.
Fiber Solutions for Building, Data Center and Campus Networks
Learn how for over 40+ years, CommScope's networking expertise, experience and a comprehensive fiber portfolio provides data center and enterprise networks the agile, end-to-end fiber solutions that power tomorrow's most demanding applications—easily and sustainably.