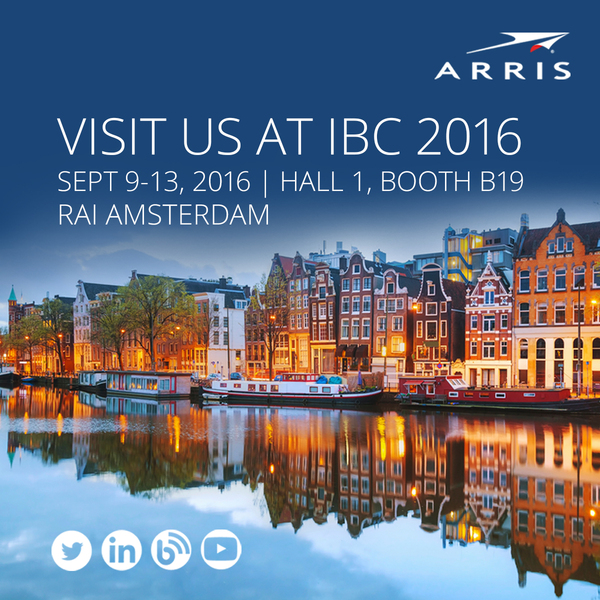 What will the home look like when it's filled with the next generation of gadgets and more content than ever? And more importantly, how will we be able to supply enough bandwidth and video services to meet demand? ARRIS is creating a world where entertainment and communications are connected and personalized, blending seamlessly into our everyday lives. And we'll be addressing these most pressing challenges at this year's IBC, which takes place on 8-13 September.
You'll see everything from high speed connectivity, innovative user experience platforms and intelligent gateways in real life situations. It will all give a feel for how they could be rolled out into homes – not just tomorrow, but today.
Take gigabit broadband, for instance. It should be the gold standard that the industry should be looking to attain. At IBC, we'll be demonstrating how Virtual Reality (VR) and other applications are driving bandwidth demand and showing the equipment needed to achieve such bandwidth-intensive tasks. We'll be using a number of products to do this including the flagship ARRIS E6000 Converged Edge Router with DOCSIS 3.1 and 10G-EPON.
We'll also be piecing together all the elements of the connected home at our IBC stand. With the access network capable of multi-gigabit bandwidth it's the home Wi-Fi network that is the bottleneck. How does the home Wi-Fi network keep up and how can it connect the entire home? We'll be showcasing our solutions to extend and manage the home network to improve service levels and reduce costs. Speaking of which, the intelligent gateway is an increasingly important part of home connectivity equipment and our range of gateways will be on display. Not only can the gateway provide a smart way of optimizing Wi-Fi, it can also function as the client controller for mABR, cache time-shift TV services, or coordinate IoT devices.
Our experts will be on hand to talk about evolving video processing in the age of all screen, everywhere video services. It's vital that you're able to scale video preparation, distribution and management in this era of both on premise and cloud solutions. We'll have the specialists as well as the equipment on show to help you navigate your way to enhanced video services including UltraHD with HDR.
Finally, ARRIS is the global market leader in set-tops. IBC will be where we'll once again demonstrate why. There will be live demos and display of set-tops for cable, telco and satellite operators supporting a variety of user experiences, including UHD and software platforms including RDK, KreaTV, Android and MediaRoom®. We look forward to exploring the future with you at this year's IBC.
See you at Hall 1 Stand B19