The 2018 FIFA World Cup may have drawn to a close, but many of us are already looking forward to 2022. Although it is far too early to know what teams will be facing off against each other, it is almost certain that fans attending the World Cup games will be relying on exceptionally high-quality Wi-Fi to support a wide range of devices, applications and experiences. Examples include bandwidth-intensive interactive VR/AR broadcasts, live (outgoing) 4K video streams to multiple social networking sites and in-stadium apps that offer real-time streaming, instant replays and interactive stats.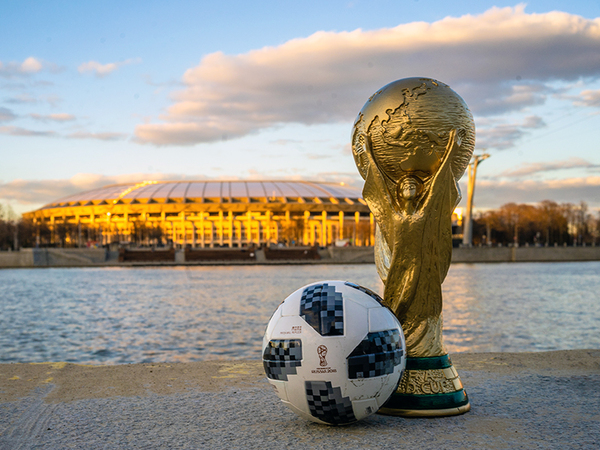 It is important to note that stadiums and arenas are among the most challenging locations for Wi-Fi due to extreme high-performance requirements in an ultra-high-density environment. Put simply,
basic Wi-Fi struggle when supporting 70K+ fans
simultaneously attempting to stream 4K video replays of a winning goal or a missed penalty kick. Fortunately, as
Jen Booton of SportTechie reports
, new Wi-Fi standards such as 802.11ax will help stadiums "up their technology game" by significantly enhancing the fan experience.
"802.11ax will be [up to four] times faster than existing Wi-Fi," writes Booton. "But even a bigger deal than that, the network will appear to be much less congested than the existing Wi-Fi standard of 802.11ac."
According to Booton, stadiums and arenas are increasingly becoming tech-savvy with mobile games, apps, social interaction, AR experiences and contactless payment solutions. "[11ax] will be an important next step that venues will look toward to make operations run more smoothly during games," she adds. Indeed, the new 802.11ax standard – which
is specifically designed for high-density connectivity
–supports the goal to achieve up to a four-fold capacity increase over its 802.11ac Wave 2 predecessor in dense scenarios with data streams rates of over 10 Gbit/s. Moreover, 802.11ax enables multiple access points (APs) deployed in ultra-high-density environments to deliver high quality-of-service to more users. This is made possible by numerous enhancements to the ever-evolving 802.11 feature set, including orthogonal frequency-division multiple access (OFDMA) and multi-user multiple-in multiple-out (MU-MIMO) technologies. However, building a network that supports seamless 4K streaming in crowded stadiums is a challenging proposition – even with the advent of 802.11ax APs. Therefore, stadium APs should leverage additional technologies to maximize limited spectrum, ensure robust connections and bolster bandwidth for flawless 4K streaming. Specific examples of
AP features that go well beyond the 802.11ax standard
include airtime decongestion to reduce unnecessary traffic, as well as transient client management to maintain optimal throughput levels for connected clients – while delaying AP responses and associations with transient clients. In addition, coverage and capacity can be significantly improved with APs that continuously optimize antenna patterns on a per-device, per-packet basis. Interested in learning more about Wi-Fi deployments in stadiums? You can check out our
Ghelamco Stadium (PDF) case study here
and our
Golden 1 (video) case study here
.