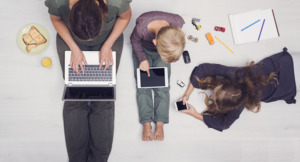 Home connectivity is evolving every day. Today, more than ever, people expect their connectivity to be there no matter if they are working from home, the kids are playing games or if they are finishing their eLearning assignments.
That means service providers are facing various challenges in delivering connectivity to the connected home.
For many, the home gateway is the starting point for delivering connected home services. They are evolving to become the platform for the next-generation of smart home services; however, services providers are seeing challenges in delivering the connected home.
CLICK TO TWEET: CommScope's Ken Haase explains how gateways are vital to delivering connectivity to service providers' subscribers.
The home is increasingly complex for both the consumer and the service providers. We are connecting more devices, mainly over Wi-Fi, whether they are smart speakers, security cameras, smart lighting or streaming video to various devices.
Making this work together is a challenge for the consumer and an opportunity for the service provider. If the customer can't connect, then they call the service provider. If service providers can offer services that are easy to use and simplify their connected lives, then they can be at the heart of the home, while reducing service-related calls. That all starts with properly installing the home gateway.
Not only are we seeing the demand for higher speeds and lower latency for steaming video and applications like gaming and virtual reality, but the need to deliver that bandwidth reliably around the home means we need better Wi-Fi. In fact, Wi-Fi issues are the most common cause for service calls.
We also cannot forget the security aspect. There is increasing consumer awareness of threats to the home network from new points of attack like:
Security cameras
How their data is being used
Parents who desire a safe on-line environment for their children
Telcos desire to be a trusted provider of a secure connected home.
Addition resources: