Ruckus alumnus to lead ARRIS's drive to grow market share and meet our customers' connectivity needs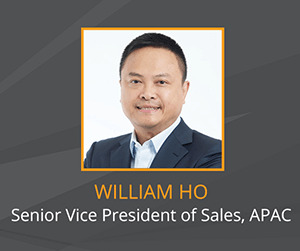 International growth is one of our top objectives at ARRIS, and we consider the Asia Pacific to be a region of strategic importance. That's why we're happy to announce the appointment of William Ho as our Senior Vice President of Sales for enterprise and service provider sales in the APAC region.

William will start his new role on April 1, 2018, at a crucial and exciting time for ARRIS. Analytics and intelligence firm App Annie estimates half of worldwide video consumption on mobile is from APAC. As a leader in connectivity, ARRIS is well-placed to meet the demand today, and in the future.

A history of leadership in technology

Before working as VP Asia Pacific and Japan at Ruckus, William rose up the ranks at Cisco to become SVP China. He oversaw e-commerce at the Hong Kong Jockey Club and worked for eight years in the enterprise-networking division of Nortel.

A veteran with 20 years' experience in the technology industry, William helped lead Ruckus Networks — acquired by ARRIS in December 2017 — to a commanding position of leadership in key verticals.

A gentleman and a scholar

William will draw not only on his own extensive expertise but also on that of the talented team of sales and channel specialists with whom he has a long history of success and established business relationships. With the support of this great team and thanks to our industry-leading products and solutions, William is perfectly positioned to grow our market share and cement our leadership position in the APAC region.

As well as being an experienced business leader and technologist, William is currently a guest professor at the University of Minnesota's Carlson School of Management. And for the past six years he has taught strategic management to executive MBA students at the Sun Yuet Sang University in China. William holds a bachelor's degree in electrical engineering and computer engineering from the University of Calgary, Canada.

Here's William's take on the opportunity: "Connectivity is transforming the Asia-Pacific region; it's powering its economies and it's empowering its people. I'm very proud to be given this role at such an exciting time for ARRIS and our industry."

William, congratulations on your promotion!