We continue our "A minute with CommScope leaders" blog series with Farid Firouzbakht, who leads the Outdoor Wireless Networks business, which incorporates the majority of CommScope's cellular network solutions. Farid spoke to us about his organization, the impact of COVID-19, 5G and more.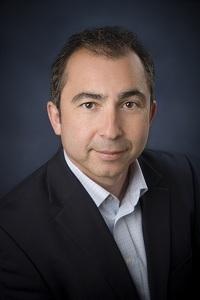 Farid, how is CommScope helping mobile operators prepare for 5G?
5G is all about speed and efficiency, and there are new frequency bands being allocated to handle it—like sub-6 GHz. These higher frequencies in sub-6 GHz bands will allow customers to have higher-speed and lower-latency communications, enabling them to deliver more demanding, real-time applications like self-driving car-to-car communications and virtual reality gaming.
But these bands also require operators to more closely integrate the various solutions they use to deliver 5G. As the signal frequency goes up, so does attenuation, which carries the potential for higher loss in system. Therefore, our customers need better integrated solutions in order to reduce cabling and connections where signal could be lost.
We have a great deal of expertise in this type of RF design and integration, which positions us well to work independently with wireless operators or partner with OEMs and other providers of choice to deliver an optimal 5G system to address our customers' needs.
For example, we're working closely with Nokia as our OEM partner, providing 5G active-passive antenna and radio solutions—where they're designing the radios and we're designing the antennas. We're working as joint design teams in order to integrate these products from the start. The future is such that we have to work closer with radio providers at the design level; it has to be a more collaborative activity.
With the COVID-19 crisis, what is the impact on the cellular industry and how might it change after this?
It is hard to quantify the impact at this point given the uncertainties ahead, but the cellular industry is needed now more than any other time in order to facilitate communication between families and for work. We are seeing that operators are continuing to build sites and expand coverage to accommodate for the increased traffic and more robust communication. We have been in a fortunate position to utilize our global manufacturing capabilities in continuing to serve our customers.
CLICK TO TWEET: CommScope's Outdoor Wireless leader talks about 5G, what customers are asking for, and more.
Can you tell us more about the Outdoor Wireless Networks segment and what sets CommScope apart in the wireless landscape?
Outdoor Wireless Networks encompasses all the outdoor cellular solutions that CommScope makes—from the equipment that goes on top of cell towers like base station antennas, microwave antennas and cabling to integrated solutions like metro cells and power solutions.
We are a truly global RF (radio frequency) provider, and our customers are some of the world's foremost wireless operators as well as OEM network providers, who buy from us and sell to wireless operators. The Outdoor Wireless Networks organization comprises teams from all over the world, and I'm responsible for all the products that fall under this global business segment.
The breadth of our offerings is what set us apart. We are a true one-stop shop—delivering end-to-end solutions for indoor and outdoor wireless communications. When you combine this breadth of offerings with our depth of expertise in high-frequency design, CommScope really stands out as a true solution provider. For example, we can provide an end-to-end system to a customer with a lot of in-house capabilities, instead of them having to contend with the challenges of working with disparate vendors who are trying to patch various solutions together.
We're also seeing wireline and wireless networks starting to converge, and this is where we have the unique capability to deliver an entire combined network as CommScope to customers who has both offerings in their portfolio.
What are customers asking of CommScope in 2020, and how should employees help answer the call?
Most regularly, customers are coming to us wanting to know how we can solve the complexity of all the new frequencies, integrate our newer solutions with existing infrastructure, and clarify the roadmap for their 5G offerings.
There aren't many end consumers currently using 5G—so our customers want to see a pay-as-you-go roadmap for how to invest in scaling the technology as they start earning revenue from their networks. They want to know how we can work with their other partners to develop their ever-evolving network. As an example, the 5G active passive antenna solution developed together with Nokia offers our customers a future proof solution with modular upgrades. We are jointly promoting our solutions to our customers, as they value the benefits of getting two best-in-class companies—in RF and radio—coming together, coming to them, and offering a seamless solution.
What principles have guided your career?
I believe that a successful organization runs on good people. I always like building teams that consist of the best and most talented members, but a great team is more than just a group of individual high achievers. A legendary example is the US basketball Olympic Dream Team of 1992. It consisted of best professional players in NBA, but in an infamous match, it lost to a team of college players. The Dream Team lost because lacked a sense of teamwork and collaboration. That's something I always keep in mind, so that I don't end up building an organization that doesn't play as a team.