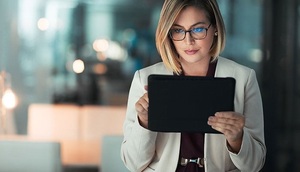 Friends, have you seen our new website? It looks a tad different, doesn't it? Well, it's because we're different. We've pulled in the ARRIS and Ruckus brands and portfolio and are working to make finding the right products and solutions much easier. But with so many more solutions to showcase and so much information to share, that can be challenging.

CommScope has a proven track record of problem-solving, world-class engineering and the ingenuity to bring powerful ideas to market. With our history of innovation, we are offering new solutions and supporting more industries than we've ever before. With three companies now one on a single CommScope website, we also want to make sure our ARRIS and Ruckus Networks' blog followers and news release subscribers stay in touch, too.
On the new website, you can pick and choose the content you desire. For current CommScope subscribers, it is important that you update your subscription profiles. All news releases will come from CommScope. We'd love to have you follow our news.
CLICK TO TWEET: It's time to subscribe to CommScope's blogs and news releases, update your contact information and select the topics that interest you.
For blog subscribers, you can select to receive blogs that relate to specific solutions and industries:
Solutions:

5G/Mobile
Data Center
Enterprise Networks
Fixed Access Networks
In-home Service Delivery
Large Venus
Managed Networks
Professional Services
Video Processing
Industries:

Higher Education
Hospitality
Managed Service Provider
Multi-Dwelling Units
Primary Education
Retail
Small & Medium Businesses
Smart Cities
U.S. Federal Government
Not only do we want you to subscribe to our blogs, but we want you to learn more about the solutions and industries by clicking here.
If you're interested in specific kinds of news, you can select any or all of our four new business segments:
Venue and Campus Networks (Wi-Fi and Switching; Distributed Antenna Systems [DAS] & Small Cell; Inside Plant Fiber [with focus on data center solutions for hyperscale and cloud customers]; and Inside Plant Copper)
Broadband Networks (Network Cable and Connectivity; CMTS and PON; Access Technologies; Network Intelligence and Automation; and Technical Services)
Outdoor Wireless Networks (Integrated Solutions; Base Station Antennas and Filters; Cell-Site Cabling and Connectivity; and Microwave Antennas)
Home Networks (Video Systems; Cable Broadband; Telco Broadband; and Retail)
So, whether you're a new subscriber or a long-time follower, please use these new links to update your profile and subscriptions.