AT&T Center
CommScope scores a double-double with AT&T Center's connectivity upgrade
AT&T Center, the home of the San Antonio Spurs, seats 18,418 for NBA basketball games and 19,000 for concerts and other events. The center opened in 2002 and is a premier sports and
entertainment venue.
"We're thrilled to have CommScope equip AT&T Center with a high-speed and reliable network solution that allows us to realize cost savings while providing an enhanced fan experience."
Joe Loomis, senior vice president of finance,
technology and culinary operations, Spurs
Sports & Entertainment."


AT&T Center, home to the San Antonio Spurs, was in need of a network refresh. With the advent of bandwidth-hungry mobile apps and game-day immersive programs, fans were demanding an always-on wireless network that could keep up with them and the game. In addition, Spurs Sports & Entertainment (SS&E) required a modern, private wireless solution that would allow business-critical operations like ticketing, parking, concessions, security and staff to communicate without outside interference.
To tackle these challenges. SS&E chose CommScope's ERA®, an all-digital distributed antenna system (DAS) to deliver first-class 5G in-building connectivity for the arena. With 20 zones, fans quickly enjoyed seamless immersive content on their smartphones, including the Official Spurs mobile app, which includes trivia, chat, instant replays, ticketless entry and interactive maps. The new DAS doubled the venue's capacity while requiring less equipment, space, electricity and maintenance than the legacy analog network.
In addition to selecting ERA DAS, SS&E deployed CommScope's Citizens Broadband Radio Service (CBRS) solutions to create AT&T Center's first private wireless network. CBRS offered the simplicity of Wi-Fi-like deployment and operations with an enterprise-focused management platform. With a CBRS network, SS&E gained dedicated bandwidth for interference-free connectivity, which is easily scalable for future growth.
By deploying ERA and CBRS, the AT&T Center now benefits from end-to-end connectivity that operates at peak performance—making this connectivity upgrade for the Spurs' home arena a slam dunk for fans and internal operations
Official Spurs mobile app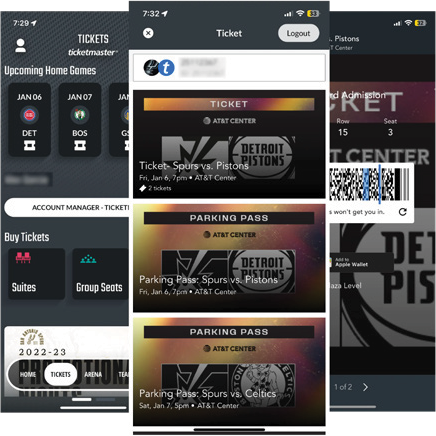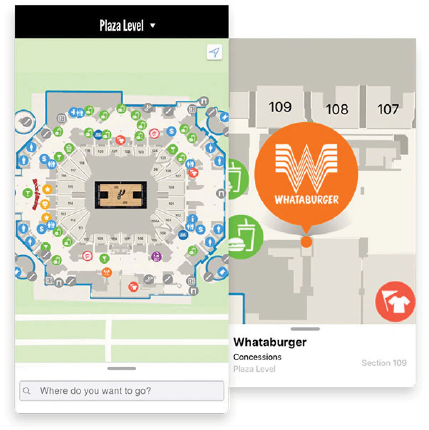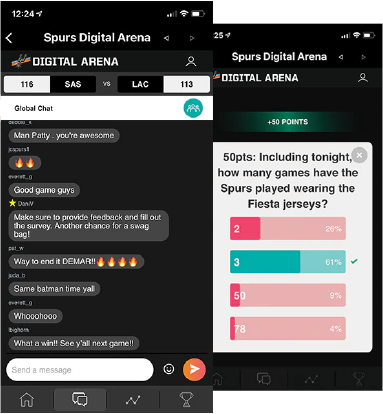 Requirements
Build a reliable, high-speed wireless network for fans, athletes, performers and press

Create private wireless network for business-criticl operations

Meet density and sustainability goals
Solutions
ERA digital DAS and CBRS private network
20 zones
252 sub-6Hz remotes
172 C-band antennas
Benefits
Doubled the venue's capacity
Reduced head-end space
Smaller footprint requires less electricity and less maintenance